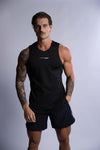 Our slim fit stringer is perfect for intense activities allowing maximum freedom of movement. This tank top features a light weight fabric that quickly wicks sweat away from the body and fights off odors while keeping you cool and fresh. The 100% polyester construction makes it soft and flexible ensuring unbeatable performance.
Ultimate Freedom : Ideal for intense activities, ensuring maximum freedom.
Sweat-Wicking: Keeps you dry and comfortable, even during tough workouts.
Odor-Resistant: Fights off odors, keeping you fresh.
Cool and Fresh: Provides cooling comfort and freshness.
Soft and Flexible: Crafted from 100% polyester for a soft, flexible feel.
Durable: Designed to last through tough workouts.
Stylish Stringer Tank Top: Slim fit design adds style to your workout attire.
Versatile: Suitable for various activities, a versatile addition to your tank top collection.
Size Chart for Pro-tech Performance Stringer (Measured in CM)
| Size | Center Front Length (CF) | Chest Circumference | Hem Circumference | Armhole Straight |
| --- | --- | --- | --- | --- |
| Small | 73 | 94 | 99 | 27.1 |
| Medium | 74.5 | 99 | 104 | 28 |
| Large | 76 | 104 | 109 | 28.9 |
| X-Large | 77.5 | 109 | 114 | 29.8 |