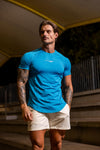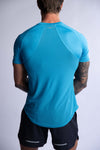 Enjoy our premium hard hitters performance tee that's designed with athletes in mind. This performance tee is equipped with a lightweight, breathable fabric and moisture-wicking technology that allows you to move freely and keep your body cool and dry. The classic fit and comfortable soft feel of the 100% polyester construction results in unbeatable performance and a long lasting durability.
Athlete-Centric Design: Tailored for optimal performance.
Breathable & Moisture-Wicking: Keeps you cool and dry during intense workouts.
Freedom of Movement: Allows unrestricted motion for peak performance.
Classic Fit & Soft Feel: Comfortable and timeless style.
Durable 100% Polyester: Ensures long-lasting performance.
| Size | Length (cm) | Chest (cm) | Hem (cm) | Armhole (cm) |
| --- | --- | --- | --- | --- |
| Small | 73 | 94 | 99 | 27.1 |
| Medium | 74.5 | 99 | 104 | 28 |
| Large | 76 | 104 | 109 | 28.9 |
| Extra Large | 77.5 | 109 | 114 | 29.8 |